Automatically Reduce Hunger, Burn Fat,
Make Your Heart Healthier, and
Naturally Control Food Cravings...

While Your Body Does All The Work!

WHAT FUEL ARE YOU RUNNING ON?
Likely, your answer is carbs, like starches, fruit, and other sugars. When you walk, talk, or simply move through your daily routine, you are burning energy, and typically most people get most of their energy from Dietary Carbohydrates


Much of the time, especially with the modern-day heavy-carb diet, your energy comes from carbohydrates. These are sugars and starches, which are broken down into glucose, which is then used by the body for energy.

Unfortunately, excess glucose that is not fully used as energy
converts to glycogen which is then stored as fat.

"CARB OVERLOAD" IS BELIEVED BY MANY EXPERTS TO BE THE #1 CAUSE OF OVERWEIGHT AND OBESITY TODAY

As you probably know, people living in modern countries are fatter than ever before, and in the US, 1/3 of all people are obese.

This can lead to the following debilitating, and in some cases deadly, conditions and diseases:

Heart attack and stroke
Various cancers
Diabetes and high blood sugar
Mental conditions like Alzheimer's and Parkinson's
High blood pressure
Inflammation throughout the body
A lower quality of life
Self-esteem issues
A reduced sex drive and performance
An increased risk of premature death
Other chronic health conditions

FORTUNATELY, YOU CAN AVOID THESE ISSUES, AND ALL YOU HAVE TO DO IS START USING THE RIGHT FUEL FOR ENERGY

The only exception to the body not needing glucose

from dietary carbs for fuel is ketones
Ketones do not usually enter the body fuel equation until you start eating carb smart and enter a state of ketosis, where your body begins to burn stored body fat for energy
Findings published on the National Institutes Of Health website report that...
Reducing carb intake triggers a harmless physiological state known as ketosis that provides an alternative source of fuel. There are no clear requirements for dietary carbohydrates in human adults, and the effects of ketosis may offer therapeutic benefits for various different disease states, those common and also those that are rare. The report further comments on a landmark study that a very low carb diet results in a significant reduction of body fat and a naturally accompanying increase in lean body mass in male subjects of normal body weight.
A study conducted at Duke University Medical Center followed 120 obese subjects for 6 months...
Half of the subjects followed a very low carb plan, while the other half followed the American Heart Association's low-fat diet, the average loss for the low carb group was 31 pounds, while the low fat group had only an average loss of 20 pounds.

HOW DO YOU ENTER KETOSIS, OR A KETOGENIC STATE?
Easy! You limit the number of and sources of the carbohydrates you eat. As soon as this happens, your body looks to other fuel to replace carbs as the primary energy source.

THIS TRIGGERS KETOSIS AND YOUR FAT BURNING SWITCH IS FLIPPED ON!
The best part of this process ...
all YOU have to do is LIMIT CARB INTAKE
Your body does the work for you. It knows what to do.
Just eat the right carbs in the right amounts and your body will begin to burn your stored fat...
It's as simple as that
Remove carbohydrates as your primary energy source, eat moderate amounts of protein and increase intake of healthy fats and your body is forced to burn stored body fat for fuel! Period!
THE AMAZING BENEFITS OF THE KETOGENIC DIET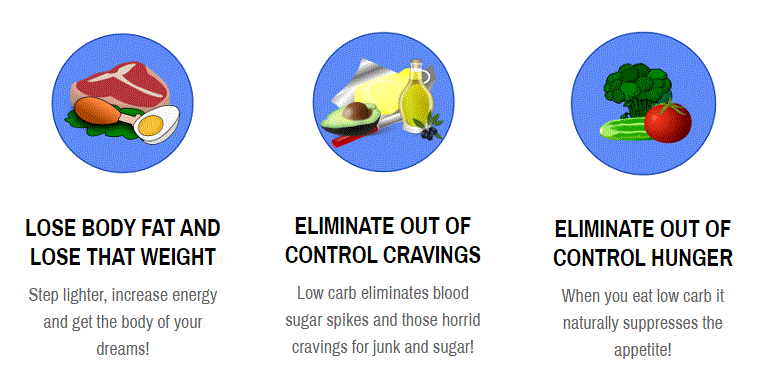 AND...

Promote healthy cholesterol levels
Stabilize blood sugar and insulin levels
Promote healthy blood pressure
Improve mental functioning
Promote heart health
Look great and feel great about yourself

LET OUR DETAILED AND COMPREHENSIVE MANUAL BE YOUR GUIDE

THE KETOGENIC DIET

A COMPLETE AND STEP-BY-STEP MANUAL TO THE LOW CARB LIFESTYLE

It's Really All You Need To Get Started Today!
Your body wants to be healthy. It really does. When you do the right things, you get the results you are looking for.

One of the greatest things about a low-carb lifestyle is that studies show it especially reduces belly fat or visceral fat, the most dangerous type of body fat!

LOW CARB REALLY IS THE HOLY GRAIL OF WEIGHT MANAGEMENT AND GOOD HEALTH

There have been more than 20 randomized controlled trials published since 2002 in respected, peer-reviewed journals that show low carb diets to be effective for weight loss, stabilizing blood sugars, for general health and to be completely safe without a single adverse effect, this cannot be said about many other diet plans.

AND...

Several studies have shown low carb eating to result in more weight lost than with low fat diets!

One of the longest studies but not the only one, published in the journal, Annals of Internal Medicine found that low carb had a significant edge over low fat diets in improving good HDL cholesterol levels.
A 2008 study published in the American Journal of Clinical Nutrition reported...
The Ketogenic low carb diet resulted in 12 pounds of weight loss in only 4 weeks in obese men and all the studies' subjects noted less hunger and more satisfaction on the low carb plan than while eating a low calorie diet.

THE BEST PART IS THAT KETOGENIC IS NOT A DIET, BUT A
LIFESTYLE THAT TAKES THE WEIGHT OFF
AND KEEPS IT OFF!

Eat Real Whole Food, Never Count Calories
And Never Feel Deprived Or Starved Again!

Our Special Ketogenic Diet Report Will Answer All Your Pertinent Questions...
Will this approach work for anyone?
How many carbs should I eat every day?
What are the best sources of carbs?
What carbs to avoid
How to determine the impact carbs of any food
What are healthy fats and which ones you need to eat to support ketosis
What are healthy proteins and which ones you need to eat to support ketosis
Answers to common low carb frequently asked questions
A complete low carb food shopping list
How to induce ketosis, the fat burning process...
Get Answers To All These Questions And Much More With Your Personal Copy Of Our Special Report...
THE KETOGENIC DIET
Your Complete Step-By-Step Manual To The Low Carb Lifestyle